Seriously, one of the best gifts I received postpartum was freezer meals! I cannot tell you how much easier this makes things on you. Caring for a newborn can be stressful enough, and worrying about what to cook for supper can just add to it! That's why I decided to put together a list of 25+ easy freezer meals for new moms!
Planning, preparing, and freezing several freezer meals BEFORE your baby arrives will make a world of a difference. Get your girlfriends together and throw a freezer meal shower! This is a great way to get a great stash of freezer meals and spend a night with all of your closest friends before the baby arrives!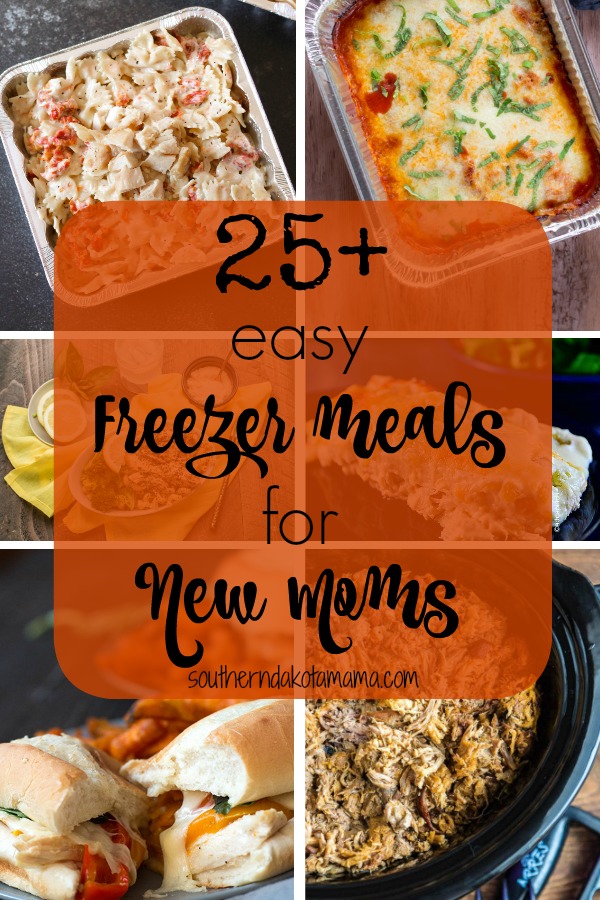 Disclaimer: This post contains affiliate links. They are provided for your convenience. I receive a small commission, with no increase to your price, if an item is purchased. Thank you for supporting me! I greatly appreciate it!
When It Comes To Prepping
Step One-Selecting Recipes
Okay, well of course the first step is picking out what meals you want to make. When selecting freezer meals, I picked mainly crock pot meals as they are the easiest to prep and to cook. Easy, this is something you definitely want after having a newborn!
Step Two-Preparing Your Grocery List
Then the next step is preparing your grocery list. Print out all of your recipes that you plan on making and write down all of the ingredients separately.
Roughly estimate how much of each ingredient you will need, to make all of your recipes. Although, make sure you will have enough, as you would rather have a little too much of something than not enough! Once you have all of your ingredients written down, you can cross off the ingredients that you have in sufficient quantity as well.
You can even take it a step further and split all of your ingredients up into categories such as-dairy, meat, seasonings, produce, canned goods, pastas/breads. This makes shopping so much easier. As you have all ingredients that are going to be in the same spot in the store, grouped together on your shopping list. No running back to previous isles because you forget several things on your list!
Don't forget to add Ziploc freezer bags, aluminum pans, tinfoil, wax paper, crock pot liners, and a sharpie to your shopping list!
Step Three- Shopping
Now that you have your grocery list put together, you can start shopping! To make things a little cheaper try buying things in bulk and hitting up your local Sam's Club, if you have one. If you're like me, the nearest Sam's Club is three hours away! Instead I made sure to take advantage of weekly sales and discount days at my local grocery store. And don't forget to use coupons if you have them!
Step Four- Prep and Cook
Grab your recipes, supplies, and your groceries and let's do this thing! It depends on how many meals you are planning on making, but I am going to tell you now, it takes almost all day. If you are planning on making several, I would say more than 15, I would split your prepping up into 2-3 days!
DO NOT forget to label your meals! If you do, you will forget what it is, how long to cook it, etc. Also, make sure you are sealing everything well! You do not want to end up with a bunch of freezer burnt meals!
Freezer Meal Prep Tips
If you are going to prepare all of your recipes in one day, cook your meat in large batches. This way you only cook the meat once and are able to add it to several different recipes. Let me tell you, this will save you a TON of time!
Try to avoid adding too much spice to your meals, as it may upset baby's tummy.
Use a crock pot or instant pot as much as possible! Just toss your freezer meal in and there you have it! Also, don't forget about the crock pot liners, as they make cleanup a breeze!
Store the meals in the certain amount of servings that are right for your family. If it is just you and your husband, freeze two servings in each bag. This is so you are not wasting a large amount of food by cooking too many servings.
Bake your meals in disposable aluminum pans. This makes cleanup easy and they make it easy to freeze your meals. Just cover with wax paper or aluminum foil.
DON'T forget to label!
When cooking your meals, set your aluminum pan or Ziploc bag of food in the fridge, the night before, in order to let it thaw throughout the night.
25+ Easy Freezer Meals For New Moms
1. White Chicken Enchiladas
This is a recipe that I actually make regularly, and boy are they good! Not only do these enchiladas bake fairly quick but they freeze well too! Serve with a side of rice or a salad and you have the perfect meal!
Mix your chicken with taco or fajita seasoning to spice it up a bit!
Recipe and Photo Credit: Add A Pinch
2. Lasagna
If you have never used no boil lasagna noodles, you are missing out!
Love this recipe, as it is quick making! Just cook the lasagna straight from the freezer and no having to boil the noodles. Although when cooking straight from the freezer you will have to bump up the cook time!
Recipe Credit: Monica
3. Chili
One of the easiest recipes to make! I recommend cooking the chili beforehand and then freezing in small Ziploc or Tupperware containers! Then you can easily grab these out of the freezer and toss in your crockpot, for a quick and easy meal.
Recipe Credit: Southern Dakota Mama
4. Pulled Pork
Another one of my go to, easy, crock pot recipes! I love pulled pork as it is so versatile. Put on buns, in tacos, on top of salads, you name it!
Its as simple as preparing the spices, rubbing them on the pork, and freezing. The day you decide to cook, no need to thaw. Just toss it in the crockpot and allow it to cook all day. You can even cook ahead, shred, and then freeze the shredded meat in portions.
Recipe Credit: Slow Cooker Gourmet
5. Tatertot Casserole
Nothing like a home cooked meal than tattertot casserole.
Recipe Credit: Mommy's Kitchen
6. Crockpot Chicken Fajitas
This recipe is as simple as simple gets! Although, you will want to have some fresh ingredients on hand such as sour cream, salsa, tortillas, cheese, etc.
Recipe Credit: The Humbled Homemaker
7. Mexican Chili With Cornbread Topping
This may be one of my favorite meals and it might just be because whenever my mom made chili, cornbread was always the side dish.
Recipe Credit: Family Freezer
8. Mississippi Pot Roast
My significant other has never been a fan of pot roasts until we tried the Mississippi Pot Roast and he raved over it!
Recipe Credit: Belle of the Kitchen
9. Pineapple Beef Teriyaki
Note: This recipe does require you to sign up for a membership. Although, if you don't want to you can just add the ingredients list into a freezer bag and thaw overnight before the day you want to cook. Cook on low for 7 hours or high for 4.
Recipe Credit: Once A Month Meals
10. Chicken Philly Cheesesteak
Because who doesn't love Philly's, especially when they are this easy to make.
Recipe and Photo Credit: The Family Freezer
11. Creamy Garlic Chicken With Tomatoes
I have not tried this one yet, but it looks and sounds absolutely fantastic! Serve over spaghetti with a side of veggies and garlic bread for the perfect meal.
Recipe Credit: Mommy's Fabulous Finds
12. Thai Peanut Chicken
Skip takeout and make this Thai peanut chicken. Serve over a bowl of rice for the perfect Thai dish.
Recipe Credit: Mommy's Fabulous Finds
13. Cashew Chicken
What can be better than chicken and cashews in a savory sauce?
Recipe Credit: Mommy's Fabulous Finds
14-23. Mommy's Fabulous Finds
This 10 Family Favorite Crock Pot Freezer Meals by Mommy's Fabulous Finds is a great post for finding 10 freezer meals all in one place! You won't want to pass up these delicious and easy meals: pepper steak, sweat and sour meatballs, teriyaki pork chops, bbq cranberry chicken, honey bourbon chicken, pork carnitas, peppers and sausage, apple bbq pork tenderloin, pineapple chicken burritos, and southwestern chicken chili!
Recipe Credit: Mommy's Fabulous Finds
24. Lemon Pesto Chicken
The perfect tangy chicken that goes great served over pasta or rice!
Photo & Recipe Credit: The Magical Slow Cooker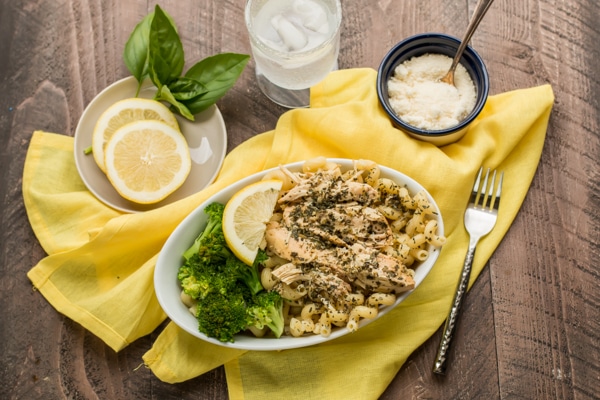 25. Tuscan Chicken Pasta
Creamy garlic sauce, sun dried tomatoes, and grilled chicken. Doesn't get much better than that!
Photo & Recipe Credit: Six Sisters' Stuff
26. Chicken Parmesan
One of my favorite chicken meals and I like it even more when you can freeze it and then just pop it in the oven!
Photo & Recipe Credit: Family Freezer
27. Honey BBQ Chicken Taquitos
I have not tried these yet, but I am adding these to my dinner rotation this week as they look that good!
Recipe Credit: Kristine's Kitchen
There you have it mamas! 25+ freezer meals for you to prepare ahead of time! Spend those extra minutes loving up on your sweet baby instead of in the kitchen!
Remember your freezer meals are only going to be as good as you prep them to be! Don't skimp on freezer bags, containers, and foil. And most importantly, don't freeze foods that are not meant to be frozen!
If you think this post is awesome, be sure to pin/share with all of your fellow mamas!
You can find all of my must have motherhood/baby/toddler products here!
You May Also Enjoy: