Tri-Core Ultimate Cervical Pillow
I was not one for having fancy pillows. In fact I was actually someone who used the same flat, crappy pillow for several years. Although, I was waking up with headaches on a daily basis and tossing and turning all night. Well that was until I came across Core Products' pillow products. I immediately fell in love with their Tri-Core® Ultimate Cervical Pillow and will continue using their products for years to come.
HOW TO USE
When it comes to using Core Products it may take some time to adjust from your current pillow to your Core Products cervical pillow. Immediate overuse of the cervical pillow may cause some discomfort. Alternating between your current pillow and your cervical pillow, is the best way to provide you with the results you want as well as help aid in cervical correction! If using the large roll/higher side reducing the amount of support can help in reducing discomfort in the beginning as well.
Once you have adjusted to your Core Pillow, you may wish to increase the degree of support. You can do this by rotating your pillow to the next larger neck roll. Again provide yourself with some time to adjust to the increased cervical support.
BACK SLEEPING-DETERMINE LEVEL OF SUPPORT
Begin by placing the Tri-Core Cervical Support Pillow on your sleeping surface. Place the smallest roll (A) under your neck and lie on the pillow for 5-10 minutes. Repeat this same process with rolls (B, C, D). When you determine the roll that provides you with ultimate comfort, take note of the letter on the tag. This will then provide you with proper pillow placement when sleeping.
SIDE SLEEPING-DETERMINE DESIRABLE HEIGHT
The Tri-Core Ultimate Cervical Support Pillow is composed of two large, side, sleeping areas featuring two different heights. Place the pillow on your sleeping surface. Lay down on the lower sleeping area (A, C) nearest your shoulder. If you prefer a higher sleeping surface, rotate the pillow so the side (B, D) is nearest your shoulder.
REASONS TO LOVE CORE PRODUCTS
10 YEAR WARRANTY
Core Products will always work to satisfy you! They want to make sure your pillow continues to provide comfort for years to come. The Tri-Core Ultimate is designed to not lose its shape or resiliency for 10 years! If you have any problems with your pillow, be sure to contact their customer service! And they will be happy to help you out!
WORKS FOR BACK & SIDE SLEEPERS
For back sleepers, the four different levels of support help aid in restoring the natural curve of the neck. For side sleepers, the sleeping areas work in keeping your head level.
DIFFERENT LEVELS OF SUPPORT
You can reduce/increase the level of support by alternating the neck rolls, providing you with maximum support!
90 DAY MONEY BACK GUARANTEE
Core Products wants to provide you with a 100% satisfaction guarantee. If for any reason you are dissatisfied be sure to contact Core Products directly.
ADDITIONAL FEATURES
There are so many features to love about the Tri-Core Ultimate Cervical Support Pillow. It provides ultimate comfort and support in order to help reduce neck pain and headaches. The side surfaces also contain airflow channels to provide you with extreme comfort for your ears and face. Another great feature are the channels on each side of the pillow to help reduce pressure on the jaw. Making this ideal for people who suffer from TMJ or jaw pain.
MY PERSONAL EXPERIENCE
Absolutely in love with this pillow! The foam is firm providing me with maximum support for my head and neck. I adore the versatility provided, whether I am looking for more support or less support. Literally making it like 4 pillows in 1. Side C provides me with more comfort than I could have ever imagined. I have slept better than ever before since finding the support roll suited for me. When I mean slept better than ever before, I mean I literally don't wake up till 5, and that is only due to my son waking me up to nurse. Otherwise, I would most likely sleep straight through the night! The smooth transition from side to back sleeping, or vice versa, is a huge plus as well!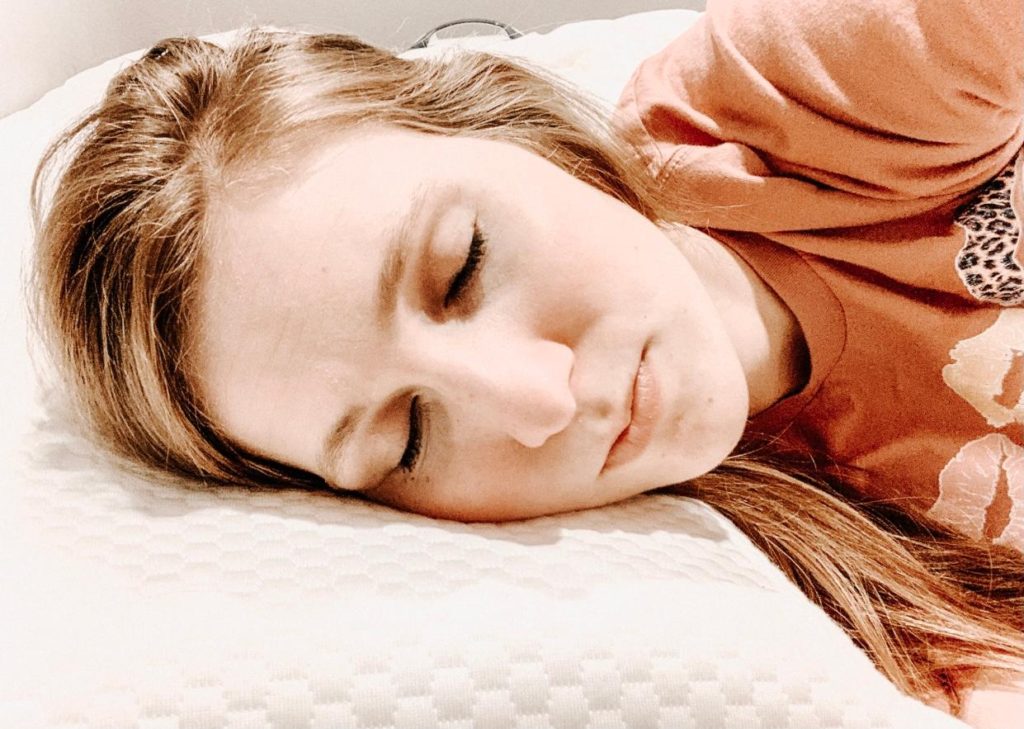 WHAT OTHERS HAVE TO SAY
"I can sleep again! Before having this pillow I could not sleep without being awoken by my arms falling asleep. I have something called cervical radiculopathy where the nerve roots in the neck effect my arms. This pillow allows me to sleep at the right angle so my nerves don't get inflamed. There are four different levels of support depending on which way you turn the pillow. Best $60 I've spent!"
"If you are feeling like "Goldie Locks and the 3 bears" and are looking for the pillow that "fits just right"? I HIGHLY RECOMMEND YOU TRY THIS PILLOW!! I have broad shoulders and had difficulty finding good support for my head and neck. This pillow offers me great support. The versatile options this pillow has to offer can possibly make a perfect fit for you too! I would like to state- I am not receiving any type of compensation for this statement. Just really glad to find a pillow that eases my pain and allows for better sleep. I have 2 fused discs in my neck and also sustained an injury to the muscles and soft tissue in my neck, shoulders, subclavian area and trapezius muscle. I have been searching for many years to find a comfortable pillow- THIS ONE HAS BEEN THE BEST!!"
Thank you so much for stopping by! I greatly appreciate it! And if you loved this post, don't forget to share/pin! I hope you find that this pillow is the best option for you as well!