15+ Natural Teething Remedies
I must admit teething is hard, and I think most other parents would have to agree with me. Teeth are cutting through your baby's gums, making them sore, which then makes them irritable and cranky, making you irritable and cranky.
So while teething may be a troublesome time, thankfully there are a lot of great remedies out there that may make this time a little less painful/stressful.
I have personally tried several different natural teething remedies with my daughter, and THANKFULLY most of them worked! I am here to provide all you parents with my all time favorite natural teething remedies, praying that they will work for your little one too! And the best part yet, without all the chemicals, dyes, and parabens.
Signs of Teething
______________________
Drooling (drooling can also irritate the baby's skin, resulting in rashes)
Sore/tender/swollen gums
Irritability/frustration/crankiness
Chewing on absolutely everything
Fingers/hands in their mouth
Low grade fever - 100ºF (this is controversial, although my daughter always experienced a low grade fever when she was cutting teeth)
Restless/decreased sleeping
Refusal of food due to soreness
15+ Natural Teething Remedies
_____________________________
1. Chilled Washcloth
Partially freeze a clean damp washcloth to let your baby chew/suck on. I do this by twisting into a stick shape and freezing for approximately 30 minutes. The cold helps to reduce inflammation and numb the affected area.
Another great option is to put ice chips in a tied off sock. I love this as the ice chips are not directly on the baby's gums, so they do not get to cold. It is also less messy as it keeps the ice chips contained in one area.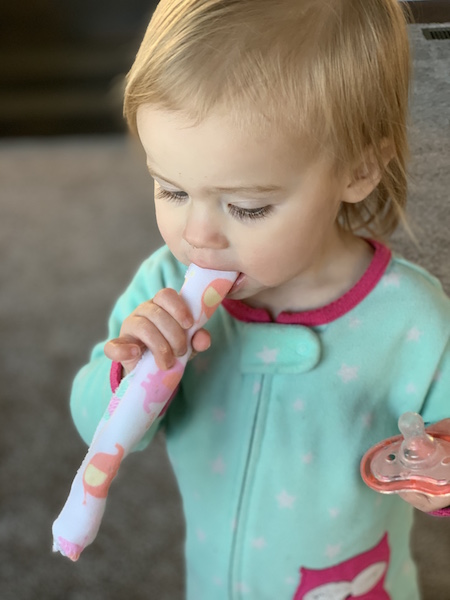 2. Baby Food Feeders
One of my daughters favorites. When it comes to teething, your baby may have a reduced appetite. Although, when you offer your baby frozen foods through a baby food feeder, it helps soothe irritated gums, while also feeding your baby.
Our favorites to put in these feeders were frozen strawberries, blueberries, mangoes, grapes, bananas, peaches, cucumber, etc. I loved these feeders are they only allowed small pieces of food to pass through, so I was not concerned about choking. I highly recommend the silicone feeders over the mesh feeders as they are much easier to clean.
3. Breast Milk Popsicles
You can also offer your baby frozen breast milk through the baby food feeders as well! Although, if you are in a situation where you don't have a baby food feeder, you can also place some frozen breast milk in a washcloth or muslin blanket for your baby to gnaw/suck on.
Or better yet, freeze your breast milk in these popsicle molds! I love these as they are shaped perfectly for little hands, the base catches drips as the popsicle melts, can be doubled as a fruit puree popsicle maker, they help soothe sore gums, and they get some ice cold mama's milk!
If formula feeding, these would work with some frozen formula as well!
4. Chamomile Tea
If freezing a washcloth in water doesn't provide enough relief, try freezing the washcloth in chamomile tea instead. Or you can also freeze the tea in the popsicle molds linked above.
Chamomile is a must in our household, as it doubles to lessen pain and help calm the nerves.
5. Nuby Teething Gel
Another absolute FAVORITE of my daughters. I literally have to hide this teething gel from her, because if she spots it, she throws a fit until she gets it.
When fussy due to sore teeth, this gel immediately calms her down. A teething gel that we will continue to use time and time again.
Nuby teething gel is benzocaine, belladonna, and paraben free!
6. Frozen Nipple
Once again, something cold to soothe the irritated gums. I love this remedy as most of us parents already have several pacifiers lying around the house. Fill the inside of a pacifier with water and freeze. Once frozen let your baby go to gnawing. These soothie pacifiers are our absolute favorite. I like to have a few of these in the freezer as the ice tends to melt fast, so I can easily replace one with another.
This nippii freezable teether pacifier is the same concept as above. I have personally not tried it, although I think I may just have to get it as I feel less of the water will end up all over my daugher.
If you do not have a pacifier that is hollow inside, fill just the nipple portion of a bottle lid for the same concept.
7. Rice Pouch
So easy to make and boy does my daughter love them. The rice offers a texture that scratches and soothes the gums!
All you need to do is put a tablespoon of rice into the middle of a washcloth. Tie it up in order to make sure the rice stays in place. And place in the fridge until baby needs it!
8. Teething Wafers
YUM! My daughter loves these! Mom loves them too! As these teething wafers are flavored with real fruits, juice, and veggies. Also has an easy-to-grip design, encouraging self-feeding while helping to soothe your baby's sore gums. They are also self dissolving, which is a definite win in my book!
9. Teething Mitt
Since your little one is most likely already chewing on their hands. Why not provide them with a teething mitt that will massage their sore gums while also keeping them entertained.
10. Chilled Veggies
I never would have thought it, but chilled veggies make for a great teething remedy! Cucumbers, carrots, and celery are our definite go to!
Peel the cucumbers then slice into one inch rings. This makes it easy for baby to suck on. You can also just peel the cucumber and let them gnaw on the entire cucumber. The same goes for chilled celery.
Although, it is important to remember that as your baby chews and gnaws some pieces will most likely break off. Be sure to keep a close eye on them no matter how many teeth they have and how well they are able to chew.
If your baby is just starting out teething and has no teeth, these are great great remedies!
11. Teethers
I mean this one is pretty obvious, hence the name. Although, there are hundreds of different teethers out there, so the ones I am linking are just some of our favs!
12. Toothbrush
My daughter absolutely LOVED chewing on toothbrushes! I'm sure the interesting/new texture helped provide some pain relief. She got a hold of my toothbrush one day, not exactly sure how, and was hooked on toothbrushes ever since (after I caught her with mine, I made sure to give her a clean one)!
This is also a great way to introduce your baby to their first tooth brush, as they will already be half way prepared for the teeth brushing routine!
I love love love this baby toothbrush as it has very soft bristles and, my favorite, an anti-choking design!
13. Camilia Teething Drops
These Camilia drops are an amazing homeopathic medicine that relieves symptoms of teething. These teething drops do not contain benzocaine, belladonna, alcohol, flavors, dyes, lactose, sugar or artificial sweeteners.
Y'all use these teething drops in order to restore the peace. All the other mom reviews would have to agree with me!
14. Ginger
Ginger is a natural anti inflammatory that works to lessen teething pain by soothing the nerve endings in the gums. For the best results, rub some peeled ginger over your baby's gums for 2-3 minutes.
15. Vibrations
A vibrating teether is a great way to lessen baby's teething pains and eliminate some of the discomfort.
My daughter did not personally have this vibrating teether, but it has great reviews and seems to help all sorts of little ones!
16. Bandana Teething Bib
Not only a bib to soak up all of baby's drool, but a teether to help soothe baby's sore gums. A definite WIN-WIN!
17. Amber Teething Necklace
I'm sure this is something that you have heard of, as amber teething necklaces have gained a ton of popularity in the past few years! This is something that I have not tried personally, so I do not have much say on how well they work! Although, several moms swear by them!
When it comes to these teething necklaces, I personally recommend placing them around your baby's wrists or ankles, especially during nap/bedtime. As I would be a little bit of a skeptic putting it around my baby's neck.
18. Beef Jerky
My daughter absolutely LOVED this! Great tasting, while also applying the pressure to soothe irritated gums! As your baby gnaws and chews, just flip the sides or cut that portion off if it gets too soggy.
This was one of my favorite remedies when Oaklynn was just starting out teething, as she wasn't able to bite off any pieces.
19. Bath
Baths are a great way to distract your baby and get their mind off the pain of teething. Along with a great way to get them to relax.
If All Else Fails
_____________________
Yes, I know this one is not natural. Although, if all else fails, you can try a little Tylenol to help with the pain/fever that comes with teething.
Although, when purchasing Tylenol, make sure you are purchasing Infants Tylenol and are following the dosing listed on the bottle.
What Not To Give Your Teething Baby
_____________________
1. Benzocaine
Some topical medications contain benzocaine, which is unsafe for babies. Benzocaine can cause methemoglobinemia, a serious condition in which the amount of oxygen carried through the blood is significantly reduced. Benzocaine can also numb the baby's gag reflux, resulting in a choking hazard.
If offering your baby topical medications, be sure to offer ones that are Benzocaine FREE! All topical medications linked above are Benzocaine free.
2. Clove
Clove bud is a powerful analgesic and antiseptic. Yes, I can tell you it does work wonders when relieving teeth pain, although this is said for ADULTS! Because of its potency, clove bud SHOULD NOT be used on children under the age of two, as it can cause an inflammatory response in their lungs, along with possible seizures, liver damage, and fluid imbalances.
This Punkin Butt teething oil, which although has great reviews, is NOT safe for babies. As it contains cloves along with peppermint, with neither of them being safe for babies. These Babyganics Gel Pods, contain clove oil as well.
3. Belladonna
This is a great article to read up on why Belladonna is unsafe for babies, along with information containing Hyland's oral relief tablets, which were recalled in previous years.
Although, Hyland has changed their teething tablets to contain no Belladonna, I still did not put them on my list.
There you have it mamas/dads! I pray that a couple of the remedies listed above give your baby some pain relief, along with a little more peace of mind for you! And just remember, that teething won't last forever.
If you have tried any of the teething remedies listed above, I would love to hear how they worked out for you! Or, if there is a remedy not listed, that you couldn't live without. I would love to have you drop it in the comments, as it may just save another mom as well!
Thank you so much for stopping by! I greatly appreciate it! And if you loved this post, don't forget to share/pin with all of your fellow mamas!
You can find all of my favorite motherhood/baby/toddler products here!
You May Also Enjoy: