Although, breastfeeding is natural, it does not always come easy. I am going to share with you breastfeeding must haves that I absolutely love and some that I wish I would have bought! All the way from products that will save you time, help with relief and sanity, along with products so you never have to waste any of your precious liquid gold!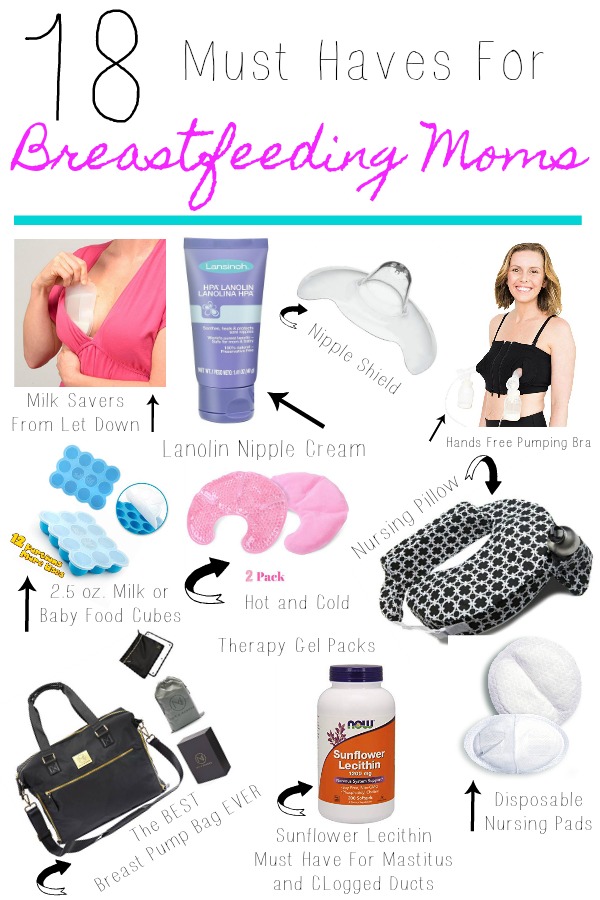 Cold therapy relieves pain and swelling from engorgement. Hot therapy relieves mastitis, plugged ducts, and encourages milk let-down.
If you are someone who gets or wants to prevent clogged milk ducts or mastitus, this is the product for you! As a breastfeeding mom, I am lucky enough to have never had clogged milk ducts or mastitus. Although, a friend of mine had mastitus and she swore by this to get rid of/prevent it. Other moms say this is the one thing that kept them from giving up on breastfeeding.
If you will be storing your milk, you will definitely need these. I have tried a few different brands of storage bags, and I have found Medela storage bags to be my favorite. I have tried the Kinde, which I liked. Although, they take up more space when storing, as they are not able to lay completely flat due to the twist off top. I have also tried the Lansinoh bags, which I had some problems with bags leaking.
I have used both reusable and disposable breast pads. Reusable breast pads are great, well because they are usable and you don't have to spend money on buying disposable ones. Although, I had some trouble with them staying put in my bra. I personally like disposable breast pads. As I feel they are much more absorbent than the reusable ones. They also have sticky strips on the back so that they stay in place inside your bra.
5. Breast Pump
Of course you will need a breast pump! Although, I would check through your insurance first before ordering one, as most insurances provide you with one for no cost!
If you are going to be pumping, this is a MUST have! Without this you will have to hold the suction cups to your breasts, which is a complete pain in the butt. The first week of pumping, I did not have this bra and let's just say it was uncomfortable and not fun. So I am glad I ordered this bra so soon! This bra does really mean hands free. You can text, read, write, or work on your computer, while pumping.
These are so so CONVENIENT! If you pump at work these are great as you can just wipe your pump parts down, without having to wash a million parts. They are also a life saver during road trips, middle of the night, or times when you don't have access to water. Not only are they great for pump parts, but you can also use them to wipe down changing tables, restaurant high chairs, and whatever you desire.
These are the absolute best! I use them to sterilize my pump parts, baby bottles, and pacifiers while at home. They are so much more convenient than boiling water to sterilize and I like them much more than the bulky microwave sterilizers. They are also great for any working mom, to make sterilizing easy instead of having to wash all your pump parts at work. The best part is, you can get 20 uses out of each bag!
This is something that I never ordered, but wish I had. And in all honestly kind of mad at myself for never ordering it. This tray is great because it is 2.5 ounce portions, compared to the 1 ounce trays which tend to be too small most of the time. This allows you to unthaw small portions if your little one needs a little extra, instead of unthawing those 4, 5, 6 ounce bags and most of the time wasting that extra milk. They can also be used for baby food!
This is something that I wish I would have known about much sooner. Wear these during nursing sessions to catch the let down from your other breast. You can create a great freezer stash just by using these! I am somewhat disgusted with myself for wasting all that extra milk that just soaked into my breast pad!
I recommend this pillow to any nursing moms as I liked it way more than the boppy pillows! The back support with this pillow is awesome. When using the boppy, during and after each nursing session my back was always killing me, as I was always straining my back to create that perfect position for the baby. With this pillow there is no straining your back or arms!
Every breastfeeding mom is going to want this, at least for the first couple weeks. Yes, it will take a little bit of time for your nipples to get use to a nursing baby. Although, for the time being use this cream to provide tremendous relief to sore nipples and to help prevent cracking and chapping.
These are a lifesaver for those first couple of weeks as they provide continuous relief for sore nipples! Keep them in the fridge to provide that extra cooling relief.
Nipple shields can be used for several purposes, including flat or inverted nipples, overactive letdown, soreness, and trouble with latching. These provide you with a good latch and a barrier between you and baby in order to allow you to heal while still being able to breastfeed.
A nursing bra is absolutely something that you will WANT! I have been wearing one EVERY single day for six months now! These bras provide great coverage, support, and are so so comfortable. They also have easy drop cups for convenient feeding. If you are in between sizes or your boobs are constantly growing, while pregnant, these bras provide bra extenders. So no need to keep buying multiple bras when you can use the extenders.
If you are a working mom, you are absolutely going to want this! Carry your breast pump, breast pump parts, bottles, milk, work accessories in ONE bag! This bag comfortably fits all sized portable breast pumps, includes two insulated compartments to keep milk cold with an ice pack, fits laptops up to 15 inches in a padded sleeve, includes a large wet/dry bag to carry your clean and used pump parts, a staging mat to conveniently set them up and dry them out on a clean surface, and a dust bag to keep your Millie bag clean when not in use.
I think that most moms worry about whether their little one is getting enough milk or not. And yes, I was one of those moms. Although, if your little one is making at least six wet diapers a day and your doctor is not concerned about your baby's weight gain, then there is absolutely no reason for you to worry! Although, if you want to boost your milk supply and create a great freezer stash before going back to work, I found this tea to work the best for me! Earthmama also makes teas for heartburn, no more milk, morning wellnes, third trimester, and more.
If you are concerned about exposing your breast to everyone, this is a must have. This nursing cover lets you breastfeed your little one discreetly. Get one for free through the link above, just use code MAMA12.
Thank you for stopping by! I hope you found some awesome breastfeeding products to help with sanity, pain, time, and most importantly so you never waste any of that precious liquid gold!
The first time writing this post I did not have the Haakaa, now it is my favorite breastfeeding investment. The Haakaa works wonders when you don't have the time or the ability to bust out your electric breast pump.
My favorite use for the Haakaa is to catch my letdown on my non nursing breast when nursing my baby. I cannot tell you how mad I am at myself for not getting the Haakaa sooner. Think of all the milk I wasted by just letting it soak into my nursing pad. I got an extra 75 ounces of milk a week by just using the Haakaa to catch my letdown when nursing.
You can find all of my favorite motherhood/baby/toddler products here!

You May Also Enjoy:
Breastfeeding Hacks/Tips For New Moms
9 Common Breastfeeding Problems and How to Solve Them