This post is for all you mamas, to help make mom life a little easier. Anything to make life a little less messy and hectic is an item that I need in my life. So with that being said, below you will find a list of my favorite life saving baby products that have helped me out tremendously, along with those that I want to try out!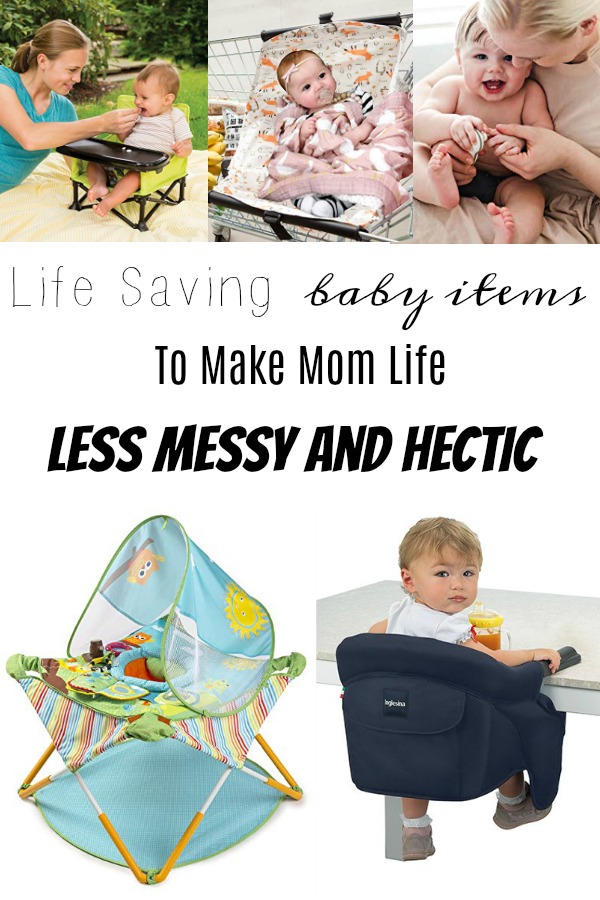 If you see a product you love, make sure to pin/share the LOVE with all your fellow mamas!
Items I LOVE
This little thing makes shopping with littles, who aren't able to sit up yet, much more manageable. Your baby will love it also, as they are able to look around while shopping or take a snooze. Yes, they can hang out it their bulky car seat, but this allows for much more room for groceries in your cart! Once you use this shopping cart baby hammock once, you will wonder how you ever shopped without it before!
Literally the BEST thing you will ever buy! You will wonder what you ever did without it! Not only does this allow your child to jump around, which they absolutely love doing, but it has several toys for them to play with when they get tired of jumping. This activity jumper will save your sanity as you are now able to get a load of laundry done, eat a hot meal, cook without a screaming baby, shower, etc.
Love, love, love this feeding spoon when on the go. Going out and about for the day, fill it up with baby food and toss it in the diaper bag. It is much easier than carrying around jars of baby food and spoons. Easy to clean and convenient when introducing foods for the first time with no spills and mess!
When I first received this at my baby shower, I thought really? I am never going to use this thing. But in all reality it has come in handy! When your little one starts to roll and squirm away from you during diaper changes, you will wish you had one. It makes applying diaper rash creams easier and faster. The cream is distributed much more evenly on the bottom with this gadget and no more wasting diaper cream from all the cream stuck to your fingers. Instead wipe the brush off on the new diaper. Also, no more taking your hand out of order if your little tries to escape. Instead you are able to grab he/she with both hands and readjust. No more diaper rash cream all over your hands, clothes, baby's clothes, changing pad, etc. And the best part is no more diaper rash cream stuck under your fingernails!
One of the best purchases I have ever made! If you are nervous that you might nip your babies skin while cutting their tiny fingernails, this is the perfect item for you! I feel as if my babies nails grow so quickly so I use this about twice a week, without having to use those dang clippers. When I was using clippers I think I was making my baby's nails even sharper as I most likely wasn't getting them cut even. This resulted in her head having several scratches all over it. After I started using this electrical nail trimmer, we have had absolutely no problems with scratches! I highly highly RECOMMEND this product!
I just ordered this and it is definitely going to come in handy more times than one! I originally ordered it for when we are at the sale barn, as we are a ranching family. Instead of having to hold Oaklynn all day while watching calves sell, I can sit her in this and she can play away! Would be a great chair for the lake, beach, ball games, and pretty much everywhere!
I have not bought the baby bullet yet, but I have already purchased these reuseable food pouches. These are awesome for when on the go. Just fill them with baby food and you have a no mess baby food pouch. Not only are they handy, but they are also extremely easy to fill and clean. They pay for themselves within just a couple uses. If you make your baby's food these are a must!
This little gadget is AMAZING! This is the only snot sucker you will ever need! Once you use this once you will immediately throw out that old bulb from the hospital. The NoseFrida is much easier to use than the bulb and has much better suction. No more sleepless nights and suffering with a stuffy nose for your little one. Still skeptical? Read the reviews and see for yourself.
When I was registering for my baby shower, I asked around about diaper genies and everyone that I talked to said that they are a complete waste of money and the inserts for them become very expensive. So instead I did some looking around and found these disposable diaper bags. They don't disappoint and definitely keep the stink at bay. Recommend if you are not a diaper genie fan.
Oaklynn had cradle cap and I had tried aquaphor, coconut oil, several different brushes and nothing really seemed to work that well and it almost seemed like everything irritated her scalp. So I did some looking around and came across this brush. Holy smokes does it work AMAZING! Granted Oaklynn's cradle cap wasn't that bad, but it got rid of it completely after just using this brush once! Go look at the reviews and photos for this product and just see how well it has worked for other baby's cradle cap as well! It is astonishing!
White noise is definitely something that helped my baby sleep much better. Granted Oaklynn has a larger and louder white noise machine that stays in her bedroom. Although this is the perfect white noise for traveling, especially if you have a little that is not much of a traveler. I have found it to work wonders!
I have not received this item yet, but it has amazing reviews so I thought I would give it a try. Use these to gum for teething. Stuff them full of fruits, veggies, and new foods for babies to try without worrying about choking. Also a great item to keep babies occupied while you are out to eat, traveling, or trying to eat a hot meal yourself. Some moms even freeze their breast milk in them for their little to suck on. For the small price, I definitely think this is going to be a great buy!
My Wish List
This was not an item that I had for Oaklynn, but it is something that I am definitely going to consider purchasing for my future babies. This item mimics the womb and helps the baby sleep much better at night. For the price, I think it is definitely something to try if your little has trouble sleeping. Would be an awesome present for a new mom as well!
I have been looking around for a baby bath since Oaklynn is getting to the age where she is about to outgrow her infant bath. I looked at the baby dam, but it had bad reviews and several parents said that it leaked. And then I came across this tub, which has AMAZING reviews. This tub allows them to sit up and play, is the perfect size, takes a small amount of water, portable, their toys won't get away from them, can also be used as a floaty at the lake, etc. And the best part is, it has a small small price tag.
Several moms say this necklace it totally worth it and to give it a try! They say they highly recommend it as this necklace cuts down on their pain, their discomfort, and the drooling. Most moms say it cuts down tremendously on their fussiness as well. This is definitely a purchase I am going to make once Oaklynn starts teething.
I wish I would have known about this little gadget must sooner. Oaklynn had jaundice so she had to get poked several times in her heel to check her bilirubin. If only I had buzzy to help ease the sting from the injection. Although, she has several more vaccines, so I still plan on giving buzzy a try. In my book, anything that helps ease the pain for my baby is worth a try. If you have a little who absolutely hates shots, this might be just the thing for you. Several reviewers said this worked great for IVF injections as well as diabetes injections.
I have not purchased this item yet, but I have a feeling in about a month or two it will be on the top of my Amazon shopping list. For those of you who have a baby/toddler who enjoys throwing their bowl on the floor and watching you clean it up, this will surely outsmart them! No more floor messes for mom/dad!
You might think this is silly, but so many moms say these are a lifesaver. Especially when you have a little one that takes an hour to eat, tiring your arms out and not allowing you to get anything done. Instead use these and they can pace feed themselves. Another mom says she has her baby use these while she gets ready for work in the morning. Lastly, they work GREAT for car rides! I definitely think I will try these out, especially for the price.
I definitely think I am going to have to try this tool out, especially the older Oaklynn gets the more she hates getting her ears and nose cleaned out. I absolutely love the NoseFrida for sucking out mucus, but to get boogers I believe this tool would work wonders. Several moms said this tool works a million times better, than a q-tip, for getting boogers out of a baby's nose along with cleaning their ears.
You can adjust this as they grow. It is also foldable making it easy to store without taking up a large amount of space. Easily take it to grandmas, friends, daycare, etc. The best part is it is a great price compared to larger activity jumpers.
If you have a little squirmer who hates getting water in their eyes during bath time, give this waterfall rinser bath cup a try!

Before I know it, my little one will be at the sippy cup stage. Although, instead of purchasing several sippy cups, I plan on buying these boon snug sippy cup lids. They turn any cup into a sippy cup! These are a definite must for traveling. Instead of packing several cups and taking up a great amount of space in the diaper bag, pack these lids instead! And if they don't end up working for my little, I will only be out a small amount of money.
I do not have this item and I do not plan on getting it, as I have a great sleeper, thankfully! Although, if I had a little one that kept me up all night, this would be the first thing I would try out! It comes in 3-6 month and 6-9 month sizing. One parent said this sleepsuit is a god-send. Another said not magic, but pretty dang close. Read the reviews and see all the GREAT things parents say about this item!
I just started putting Oaklynn in a high chair and I think this might have to be my next purchase! I honestly wish I would have known about this chair before getting a high chair that is big, bulky, and takes up space in our kitchen. And instead of purchasing another high chair for grandmas, babysitters, or wherever, get this chair that can be packed up and taken anywhere. Works great for eating out as well!
This will be a must purchase when my little becomes mobile and starts to get into everything. Keep them contained, while also allowing them enough room to crawl around, but not taking up a huge amount of space in your house. Easily portable so take it to grandparents, friends, daycare, etc. Will be perfect for when the weather starts to warm up and we can play outside or taking it along to the lake!
See products you love. Make sure to pin/share with all your fellow mamas!
Thank you for stopping by!
You May Also Enjoy: