Oatmeal is a great way to increase your milk supply, although if you are a breastfeeding mom who does not necessarily like the flavor of oatmeal, this lactation smoothie is a wonderful way to get in those milk boosting oats. It also contains a few other galactagogues to increase your supply. And on the plus side it tastes delicious and is the perfect breakfast smoothie or mid-day snack!
I have been exploring several ways to boost my milk supply as I am trying to create a freezer stash as I am heading back to my summer job a few days a week and this smoothie was one that took my pumping sessions from 3-4 ounces to 6-8 ounces! It contains oats, brewers yeast, and flax seed, which are all ingredients to supplement breastfeeding moms! No wonder my milk supply doubled!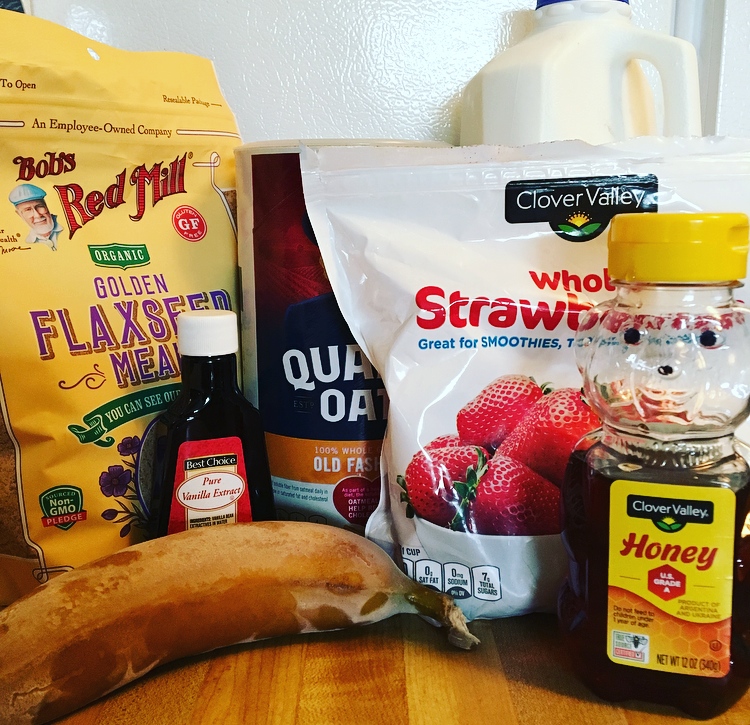 Note: I buy my oats in store, although I order my flax seed and brewers yeast off of Amazon.
I am including a couple other items that I absolutely love, that helped double my milk supply, and I recommend to all breastfeeding moms.
This lactation cookie mix, is the bees knees! It doubled my milk supply and is freaking delicious. Moms beware, you will want to eat all of these cookies in one sitting, they are that good!
This fenugreek and blessed thistle powder drink mix also helped wonders when trying to increase my milk supply. Not only does it work great, but it also tastes great! I love this mix as there are so many ways to use it. Add it to milk, almond milk, your morning coffee, a smoothie, or whatever you prefer.
How To Make A Strawberry Banana Lactation Smoothie
Strawberry Banana Lactation Smoothie
This delicious lactation smoothie has three milk boosting ingredients in order to help boost your milk supply. And makes for the perfect breakfast smoothie or mid-day snack.

Ingredients
¼

cup

oats

old fashioned

1

banana

8

strawberries

frozen

½

cup

milk

1

tbsp

honey

½

tsp

vanilla

1

tsp

brewers yeast

1

tsp

flax seed

ground
Instructions
Put the oats in blender and process until they are well ground.


Add the remaining ingredients and blend until smooth.


Enjoy! And watch your milk supply increase drastically!

Recipe Notes
You can switch the frozen strawberries and a fresh banana for fresh strawberries and a frozen banana. You can also switch out fruits for other fruits if you prefer.
Enjoy This Recipe?
Make sure to pin/save for later and to share with all of your fellow mamas!
You can find all of my must have motherhood/baby/toddler products here!
You May Also Enjoy:
No Bake Oatmeal Bites For Breastfeeding Moms/Toddlers
How I Pump 150 Ounces of Breastmilk Each Week