The Cutest Personalized Children's Books For Any Occasion
Disclaimer: This is a sponsored post. I may have been compensated and/or received a product. However, all opinions remain my own and I was in no way influenced by the company.
One of my favorite traditions to do for each holiday is to create personalized books. For Christmas, Oaklynn got a Santa Comes to South Dakota book and for Easter she will be receiving a When Oaklynn Grows Up Book.
Personalized books are great because they create meaningful keepsakes for years and years to come. Also, when kids are old enough to read books by themselves they will find a true connection with books when they, themselves, are characters in them. When I was younger one of my parents friends created a personalized Loin King book where I was a character inside the book. It is still one of my favorite books to this day and I don't think my kids will be any different when it comes to personalized books.
So why did I choose Hooray Heroes to create Oaklynn's personalized book?
Their books are personalized from start to finish, the process is easy, you can pick from several different personalized story options, you get to create a personalized avatar, a typed dedication can also be added, you get to pick out stories for inside the book, and Hooray Heroes is ever so kind to provide all of you with a discount code! HOORAY!
Personalized Story Options?
The personalized story options include: Happy Birthday, Oaklynn. When Oaklynn Grows Up-Mommy Edition. When Oaklynn Grows Up-Daddy Edition. Adventures of Oaklynn and XXXXX-Twins Edition. Adventures of Oaklynn and XXXXX-Siblings Edition. And Merry Christmas, Oaklynn.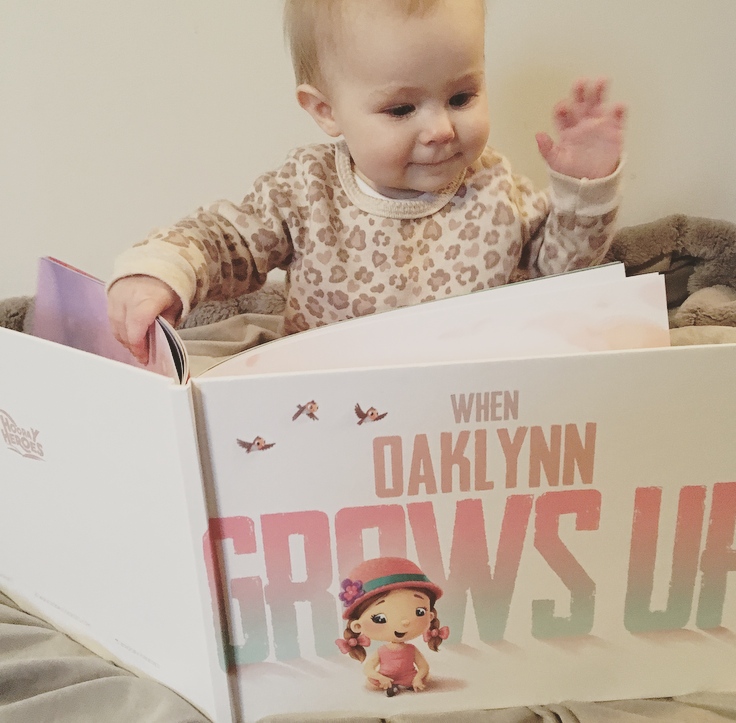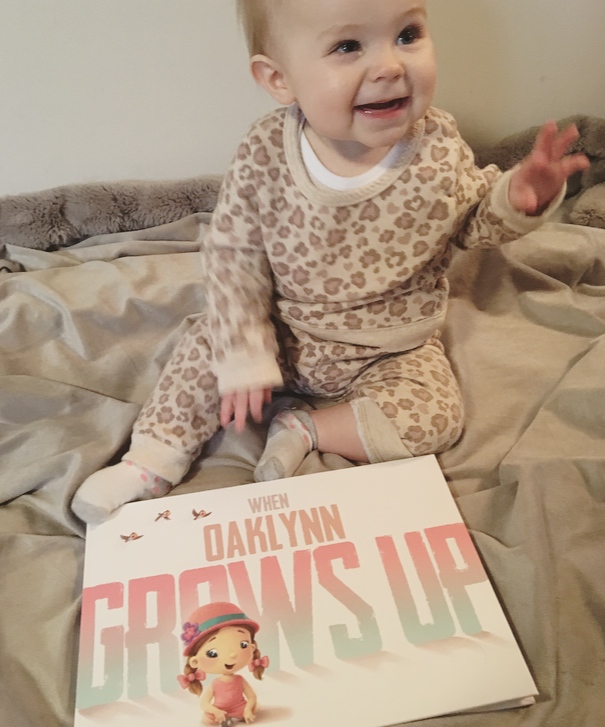 A personalized avatar, what is that?
When it comes to personalizing an avatar, you get to personalize the character inside the book in order to make it resemble your child/children. Choose the gender, hair color, skin color, eye color, and even if they have freckles or glasses. You also get to personalize mom/dad!
A Typed Dedication?
I loved this part, because I have terrible handwriting. So I didn't want to get this beautiful book and then have to add my chicken scratch writing inside the front cover. Instead, you can either have Hooray Heroes add your typed out dedication or you can choose from dedications that they have made up for you already.
Pick out stories for inside the book, what does that mean?
So for the options of When Oaklynn Grows Up, you get to pick out ten stories of what she may grow up to be, for instance a doctor, vet, chef, firefighter, pilot, ballerina, etc. For the siblings/twins adventures book you get to pick out fifteen adventures, such as treasure hunt, puppies, playground fun, cookies, helping hand, tree tops, hide and seek, basketball, brushing teeth, etc. For the birthday option, you get to pick out ten stories, such as rabbit (be joyful), pig (be friendly), bee (be persistent), cheetah (be determined), etc. And for the Christmas Edition you get to pick out ten stories, such as snowflake, the ghosts of Christmas past, scrooge, Christmas Angel, Santa, Rudolph, reindeer, etc.
What is the discount code? I want to order now!
Use code MOMMY15 in order to receive 15% off all books! Head here to order.
I can't recommend Hooray Heroes enough! Their books are absolutely beautiful and they may even make you tear up a bit, if you are anything like me. Their arrangement of personalized story options makes for a great addition to your kids library. Furthermore, they make for great gifts whether its for your own kids for Easter, Christmas, Birthday, or for someone else's kids for Birthday, Christmas, baptism, or even a baby shower.
Until next time. I hope you have just as much fun creating a memorable keepsake as I did.
You May Also Enjoy: