Baby Merlin's Magic Sleepsuit Review
Oaklynn has been a pretty good sleeper since day one, typically waking up once throughout the night. I know, we have been pretty lucky, right? But I am not going to lie, there were those times where we had to battle through those sleep regressions. I am sure all of you have heard about the most dreaded four month sleep regression. Although, I never truly felt sleep deprived until around month sixth. Oaklynn was waking up once at four o'clock every single night. It wasn't her waking up the one time that was dreadful. It was her waking up and staying awake for a couple hours at a time. This is when I knew I wanted to try something in order to hopefully get her to sleep through the night or fall back to sleep much easier.
I started researching ways on how to get your baby to sleep through the night. And came across things such as set a bedtime routine, baths before bedtime, sleep training, and the list goes on. Back around month four when Oaklynn was waking up more than usual, I thought about doing the sleep training. As one of my old coworkers is a sleep training consultant. Although, I did not want to pay hundreds of dollars for something that might not even work. This is then when I remembered a girl from my home town raving about the Magic Merlin's Sleepsuit. A sleepsuit that miraculously helps your baby sleep throughout the night.
After a week of Oaklynn waking up at four and screaming and screaming once I lay her back down after nursing, I decided to give the sleepsuit a shot. I mean why not? If it doesn't work I am only out $30-$40. And for you moms that have a little one that wakes up several times throughout the night, this sleepsuit may be the ticket to them only waking up once maybe twice, allowing you those extra hours of sleep in between feedings. If I must say, a bargain for sleep!
Another reason why I wanted to give the sleepsuit a try was because this was around the time we were transitioning Oaklynn from her rock-n-play into her crib. The move from a small space into a large space left Oaklynn kicking her legs against her crib mattress several times a night. No, she was not waking up screaming but she was not getting a good nights rest from her startling, resulting in her kicking her legs.
Get Your Baby Merlin's Magic Sleepsuit Here. Use code Oaklynn15 for 15% off!
So what exactly is the Baby Merlin's Magic Sleepsuit?
The Baby Merlin's Magic Sleepsuit is a suit that provides babies with a cozy and calming sleep environment. The sleepsuit is designed for babies that are ready to transition from the swaddle, but still need the secure sleep environment. Along with babies that are moving from a smaller sleep space into a larger sleep space. The sleepsuit is designed for back sleeping only, along with a room temperature that is recommended for babies. Once your baby begins rolling over in their sleep, it is recommended to transition them out of the sleepsuit. The magic sleepsuit helps muffle the startles and twitches that wake babies prematurely. And if awoken the sleepsuit helps soothe the baby back to sleep.
The sleepsuit has three layers of material. A soft, comfy microfleece or breathable cotton outer layer. A cozy poly-fil layer for just enough warmth. A soft breathable cotton inner layer next to the baby's skin. So when putting your baby in the magic sleepsuit dress the baby in a cotton onesie or a diaper only, in order to make sure they stay at a comfortable temperature. There is no need for extra layers. The sleepsuit also features a scooped neckline in order to keep the fabric away from the baby's face. Along with open hands and feet to keep the baby at a comfortable temperature.
Baby Merlin's Magic Sleepsuit Sizing
The ideal time to start introducing the sleepsuit to your baby is around three months. The sleepsuit should fit snug enough so that the baby is not sliding around in the suit. And the baby is not able to pull their legs or arms up and into the sleepsuit. The small fits 3-6 months (12-18 pounds). The large 6-9 months (18-21 pounds).
The employees for Baby Merlin's Magic Sleepsuit are awesome as well! I had several questions about the sleepsuit, so I e-mailed them with my questions and they responded in a very timely manner and made sure all my questions were answered. After I received the sleepsuit I took a picture of my baby wearing the suit and sent it to their e-mail, making sure the sleepsuit fit properly. And once again they responded in a timely manner making sure I was at a piece of mind and that my little one was safe and secure in the suit.
Does Baby Merlin's Magic Sleepsuit Work?
So what everyone is most likely here for? Does the Baby Merlin's Magic Sleepsuit work? You bet it absolutely does! So to begin with, like stated above Oaklynn was not a terrible sleeper, she typically only woke up once throughout the night, but the problem was getting her to go to sleep at the beginning of the night along with getting her to go back to sleep after her nighttime feeding.
At the beginning of the night I would feed and rock her for thirty minutes to an hour, where she would then be asleep. Once I put her into her crib she would immediately wake up and start screaming. So the first couple nights of trying out the sleepsuit, we did the normal routine of rocking her for the thirty minutes to an hour. Although once I put her in her crib she would wiggle around for a couple minutes but with the magic sleepsuit on, she would soothe herself back to sleep. After a week of wearing the sleepsuit I could lay Oaklynn in her crib, with her being wide awake, and within fifteen minutes she would be sound asleep.
Now for Oaklynn to sleep entirely through the night it took a little over a week. Which was totally fine with me, because if we never gave the sleepsuit a try she probably still would not be sleeping throughout the night. She now gets a solid twelve hours of sleep each night (8 to 8)!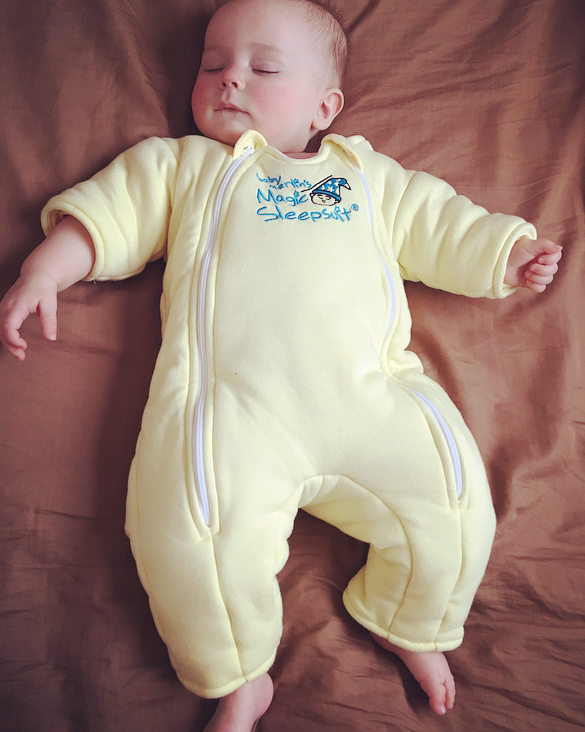 Now when it comes to nap time, I ADORE this sleepsuit. Once we hit four months Oaklynn was not much of a nap taker. She would not snooze for more than thirty minutes and that was only if I was rocking her. The first day I got Baby Merlin's Magic Sleepsuit, I thought I am going to try this baby out. I changed her diaper and slipped her into the sleepsuit. Nursed her and laid her down in her crib, with her being wide awake. Yes, it took her thirty minutes of her babbling before she finally fell asleep, but guess what she slept for two hours, I literally could not believe it! This mom was finally able to get some housework done!
So, yes Baby Merlin's Magic Sleepsuit DOES work! I would say a definite gamechanger! For us it made the transition from the rock-n-play to the crib much easier! Let me tell you mamas, if it gives you a couple extra hours of sleep a night and possibilities of a baby sleeping throughout the night, it is definitely WORTH the money! In my opinion one of the best baby investments I have made to this day! Seriously the best gift you can get or give!
And a happy baby=a happy mom!
Get your Baby Merlin's Magic Sleepsuit here. Use code Oaklynn15 for 15% off!
Have you tried out the Baby Marlin's Magic Sleepsuit? If so I would love to hear your thoughts/reviews in the comments!
Make sure to follow me on Instagram, as I will be doing monthly if not semi-monthly giveaways!
You May Also Enjoy: