When it comes to diaper bags, you want to find the perfect one. As it is something that will get used every single day. And if you are like me, it will most likely turn into your purse as well. You will also want something that is large enough to carry everything that you need. And that is why I find the Kiddibean to be the absolute perfect diaper bag.
Kiddibean- The Absolute Perfect Diaper Bag
Easy To Carry
The day I got my Kiddibean diaper bag, I immediately opened it up and switched it out for my shoulder diaper bag, and am so so glad I did! We traveled to Colorado the next day to see the Red Rocks, and let me tell you it is so much easier to lug around a backpack diaper bag than it is a shoulder diaper bag! The straps are also padded, which makes lugging around a diaper bag way more comfortable. Backpack diaper bags are great because you can have it strapped to your back wherever you go. No worrying about setting it down somewhere and then forgetting it.
Tremendous Amount of Space
You will not believe how much space the Kiddibean diaper bag has. When I switched all of my belongings over from my shoulder bag to my Kiddibean bag, everything fit with still a large amount of space to spare. Before hand, everything was crammed into the shoulder bag with the top of the bag having to be smashed together in order to get the bag zipped.
Small Compartments
The amount of small compartments on the Kiddibean is extremely convenient. Like I said before this diaper bag has turned double duty. It serves as both a diaper bag and my purse. With these small compartments there is no more searching high and low for my chapstick, a pen, diaper cream, boogie wipes, etc. There are enough compartments for there to be a designated medicine compartment, diapering compartment, mom compartment, feeding compartment, etc. It also contains an insulated pocket for bottles, along with an easy wipe access on the side (no need to dig for a wipe). And I can't forget about my favorite. The zipper on the back of the bag, which can be used to easily access items on the bottom of the bag without having to pull everything out!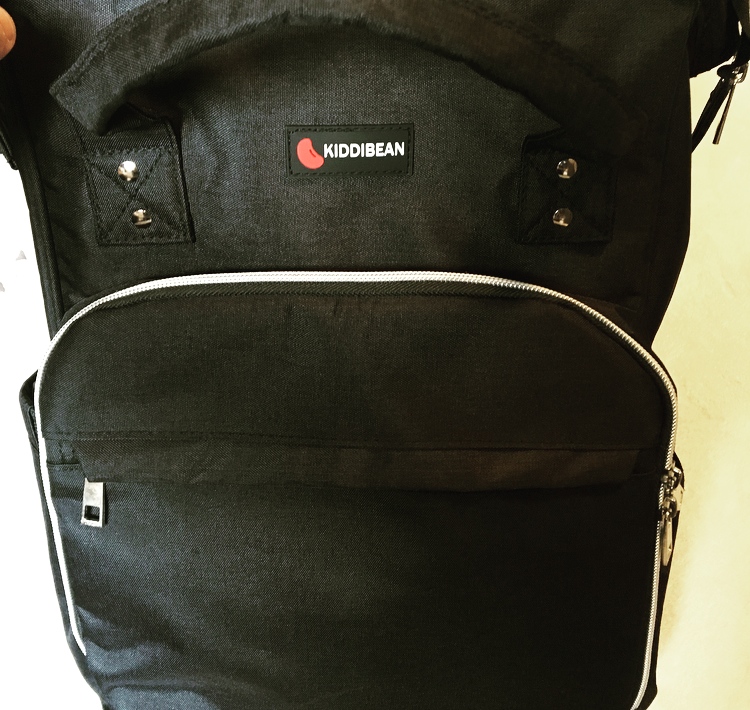 Changing Pad
Changing pads that come with diaper bags are typically paper thin and I usually just end up throwing them away. Although, the changing pad that came with the Kiddibean has a darling elephant print design and is much larger than changing pads that come with most diaper bags. It is actually large enough to fit a baby/toddler and has some padding as well.
Practical
There are so many reasons to love this bag, including all of the reasons listed above. Dads will also enjoy that this bag is plain and black, no bright pink bags or tassels hanging from the sides. Trust me, they will thank you for purchasing this bag! The material is also thick and can be easily cleaned and wiped off. Another favorite feature of mine is that there are straps for the diaper bag to be attached to the stroller. No more sore shoulders and backs from lugging a diaper bag around the mall, hiking trips, walks, etc. And last but not least the price is so reasonable, especially for the quality and functionality of the bag.
Parents, I am telling you that you cannot go wrong with this bag! This is by far my favorite diaper bag I have used to date. I highly highly recommend to all you other moms and dads!
You May Also Enjoy:
Useful Tips/Tricks For A New Baby