You read all the What To Expect When You're Expecting books, talked to all of your friends, and have read all sorts of things on the internet, which are all great for letting you know what to expect when having a baby. Although, they tend to not mention the tips/tricks for a new baby in order to make your life a little easier. There are things that I learned the hard way and thought to myself why didn't someone tell me that. Or organization tips that keep everything in order. So I thought I would put together a post of useful baby tips for all you moms, especially new moms to make your life easier! If you find some useful tips, make sure to share/pin for your fellow mamas!
Useful Tips/Tricks For A New Baby

1.
Use a shoe organizer to store baby food, burp rags, blankets, or whatever else you need to store! You can find one for cheap here!
2.
Use a crib sheet to protect your little one from getting too much sun!
3.
Make momsicles for your teething baby by freezing pacifiers in breast milk.
4.
Use dawn dish soap, baking soda, and peroxide to remove stains. If the blow out is fresh just scrub with hot water and dawn and it comes right out without leaving any stains!
5.
Use the buttons on the bottom of the onesie to hang several onesies on one hanger.
6.
Save space in your diaper bag by rolling up the back up outfit into a sock.
7.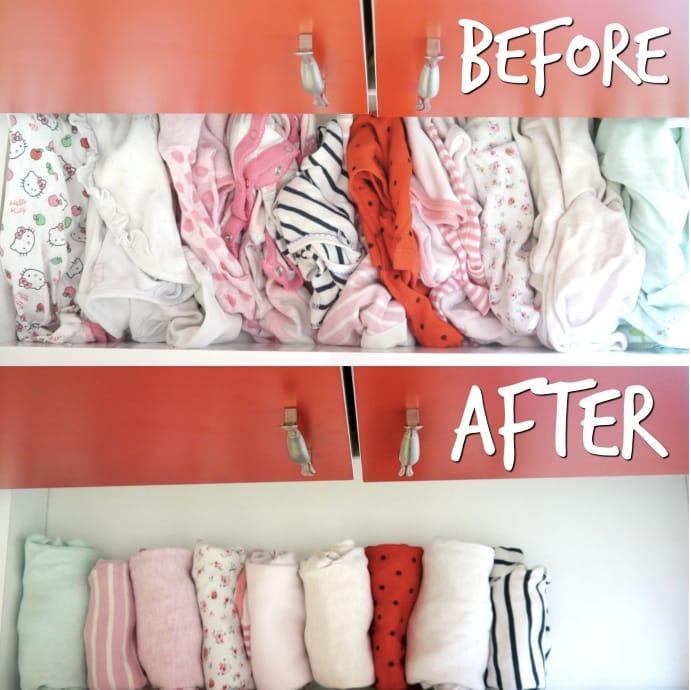 Save space in clothing draws by rolling up your baby's clothes.
8.
Use this electric nail trimmer to trim your babies nails. Seriously, it makes it so much easier than clipping them. And no worrying about the possibility of clipping your baby's skin.
9.
Store frozen breast milk in empty 12 pack pop boxes.
10.
Snip a hole in the bottom of a zip lock bag in order to make frozen baby food bites. These are great for helping soothe the baby's sore gums.
11.
Use this cradle cap comb to get rid of cradle cap in one to two brushes. Seriously, go look at the images in the reviews, you will be amazed!
12.
Freeze some aloe vera in a zip lock bag and use it for sore nipple relief.
13.
Turn an old sports bra into a pumping bra.
14.
Traveling with baby, pack your baby's outfits in separate ziploc bags labeled by day. I love this tip as you aren't tearing your luggage apart trying to find matching clothes, tiny baby socks, etc.

15.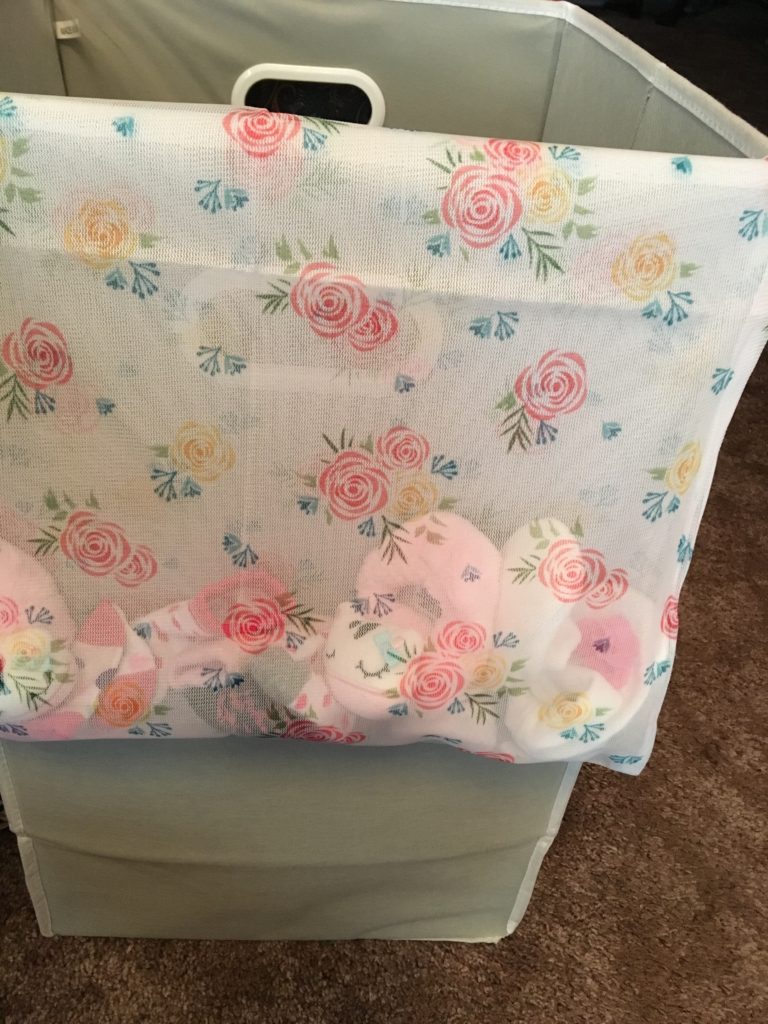 Keep from losing baby socks from washing them in a mesh laundry bag. I wash Oaklynn's rompers and more delicate items in a laundry bag as well. Before I bought one of these I was losing at least one sock every time I was doing Oaklynn's laundry. Find them here for a small price.
16.
Use this bum brush to apply diaper rash cream. When I got it for my baby shower I thought I would never use it, but in all honestly it has come in handy! It allows you to keep both of your hands in order if you have a baby trying to get away. No getting diaper rash cream all over the baby's body, clothes, changing pad etc. And the best thing yet, no getting diaper rash cream stuck under your fingernails.
17.
Use a white noise machine in order to soothe your baby and to keep them from startling while sleeping. I absolutely love our Hatch Night Light and sound machine. I don't ever lay Oaklynn down without turning it on. There are a few different night light colors to choose from, along with a few different noise sounds. You can turn the volume up and down and the brightness of the light up and down as well.
The best part is you can get the hatch app on your phone and turn the machine on/off and up/down from your phone! There is also a time to rise feature. Where the light turns green, letting your little one know it is time to get up and they are able to get out of bed. I have not been able to use this feature yet, since Oaklynn is to little. Although, I read the reviews and several moms swear by it!
18.
Keep an extra shirt for yourself in the diaper bag. I learned this the hard way, after walking around the county fair with poop on my shirt.
19.
For those babies that don't want to take medicine, use pacifiers. The pacifiers with the hollow opening fits a medicine dropper perfectly.
20.
Use Aquaphor! My love for aquaphor continues to grow daily. One time use of Aquaphor on my baby's diaper rash cleared it up instantly. One of my friends commented on Facebook asking for recommendations for diaper rash and 90% of moms recommended Aquaphor. In addition to diaper rash, use it on dry and cracked skin. It provided tremendous relief for the cracked skin around my baby's ankles. This jar will also last you forever! I have had mine for six months now and have maybe used about ½ of it!
21.
Instead of using a diaper genie use disposable diaper bags. When I was creating my baby registry I asked around about diaper genies and everyone that I talked to said they were a waste of money. They don't work all that great and the liners can become extremely expensive. Instead I invested in these disposable diaper bags. I love them as they reduce the smell of stinky diapers and they have great reviews! They work awesome for traveling too!
22.
Use olive or coconut oil to clean up those first diaper changes. Meconium is a lot easier to clean up with a little olive oil. Olive oil can also be used to help treat cracked and dry nipples.
23.
I cannot say enough good things about Gripe Water. My baby tends to get hiccups daily. A few drops of this miracle water gets rid of them instantly. In addition to getting rid of hiccups, Gripe Water helps relieve gas, colic, and fussiness.
24.
I learned this one the hard way. Those little flaps at the head opening are not there for looks. They are actually there so the head opening can become large enough to slip down your babies body in the case of an exploded diaper. Nobody wants poop in their hair!
25.
Get zipper pajamas or sleep gowns instead of button pajamas. They are so much easier to undo and do back up in the middle of the night when you have a hungry, screaming, kicking baby.
26.
Oaklynn was terrible about scratching herself, no matter how much I cut/filed her nails. She always had scratches all over her head. So I ended up buying pajamas that had built in mittens, where she was no longer able to scratch herself. Or if all of these pajamas were in the wash, I would throw socks on her hands at bed/nap time.
There you have it mamas/dads. I hope you found some useful baby tips in order to make your life a little easier! If you have any awesome tips that are not on the list, I would love to hear about them in the comments!
Don't forget to share/pin for your fellow mamas!
You may also enjoy:
15 Useful Tips To Help Organize The Nursery