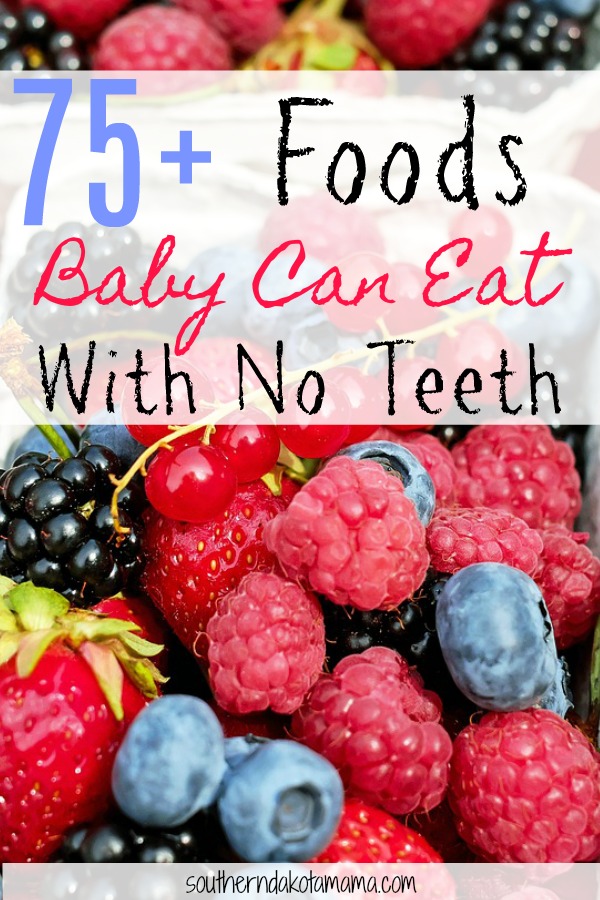 Oaklynn was a late teether, and did not get any teeth until 11 ½ months. I was absolutely terrified to start giving her solid foods, for the fear of choking. That was until I actually started feeding her solid foods and she became a pro at munching with her jaw. So I decided to make a list of 75+ foods for babies with no teeth to help out all you other parents.
For reference, most foods I dice into about ¼ inch and remove skins as it may be tough to get through with no teeth. Or I slice into french fry shape as it makes them easier to grab. And roast, boil, or steam foods to make them softer.
If you are still concerned about choking, use the silicone feeders as they allow small pieces of food to pass through. They are also great for teething babies. I prefer the silicone over the mesh, as they are much easier to clean.
Take it one day at a time and use your best judgement as to how well he/she gums their food. Introduce new foods on a few days basis, as if an allergic reaction occurs you know exactly what the reaction is to. Also, as a rule of thumb, if you can smash the food between your thumb and forefinger your baby can smash it with their jaw. And of course, never leave an eating baby unattended!
75+ Foods For Babies With No Teeth
Fruits/Veggies
Watermelon (if non-seedless remove the seeds)
Cherries (cut in quarters)
Strawberries (remove hull)
Blackberries
Raspberries
Blueberries (smash a bit)
Grapes (cut in quarters, lengthwise; or you can use this handy little grape cutter)
Apricots
Peaches (extra ripe are typically softer)
Mangoes (use the ripe ones)
Pears (peel, and if too hard bake in oven)
Apples (peel and bake in oven with cinnamon and butter to soften)
Muskmelon
Honeydew
Bananas
Clementines
Oranges
Mandarin Oranges
Plums
Kiwi
Pineapple
Lemons (my daughter LOVES lemons and limes)
Limes
Avocados
Tomatoes (peeling skin off may be easier to eat)
Broccoli (steam, boil, or roast)
Cauliflower (steam, boil, or roast)
Summer Squash (boil or roast)
Spaghetti Squash (roast)
Zucchini (boil or roast)
Sweet Potatoes (roasted or mashed)
Peas
Green Beans
Carrots (steam, boil, or roast)
Potatoes (boil or roast)
Pumpkin (bake)
Corn
Asparagus (steam, boil, or roast, tip is usually softer)
Brussel Sprouts (steam, boil, or roast)
Mushrooms (roast)
Onion (roast or boil)
Bell Peppers (roast or boil)
Cucumber (slice in stick form, serve middle part which is softer)
Prunes
Olives (cut in half, if left in water will lose some saltiness)
Dried Cranberries, Apricots, etc. (soak in water for an hour to soften a bit)
Chickpeas
Baked Beans
Black Beans
I recommend getting a steamer like this one, as it will be used almost everyday and it so easy to use!
Dairy/Protein/Meat
Yogurt
Sliced Cheese
Eggs
Cottage Cheese
String Cheese (cut into chunks)
Tuna
Salmon
White Fish
Crab (if not allergic to seafood, give it a shot)
Shrimp
Chicken (serve shredded for babies to suck on, then later munch)
Ground Beef (browned into bite size pieces)
Ground Sausage (browned into bite size pieces)
Hotdogs (cut lengthwise, lengthwise again, then into bite sized pieces)
Starches
Mashed Potato
Baked Potato (cut into chunks)
Bread (toasted, so doesn't stick to the roof of their mouth)
Roasted Potatoes
Cheerios
French Fries
Muffins
Noodles (spaghetti, elbow, penne, rotini, etc.)
Oatmeal
Pancakes
Waffles
Banana Bread
Biscuits
Rice
Cous-Cous
Corn Bread
Other
Applesauce
Yogurt Melts (store bought or my homemade recipe)
Puffs
Pudding
Jello
Popsicle
Oh and I guess I can't forget CAKE 🙂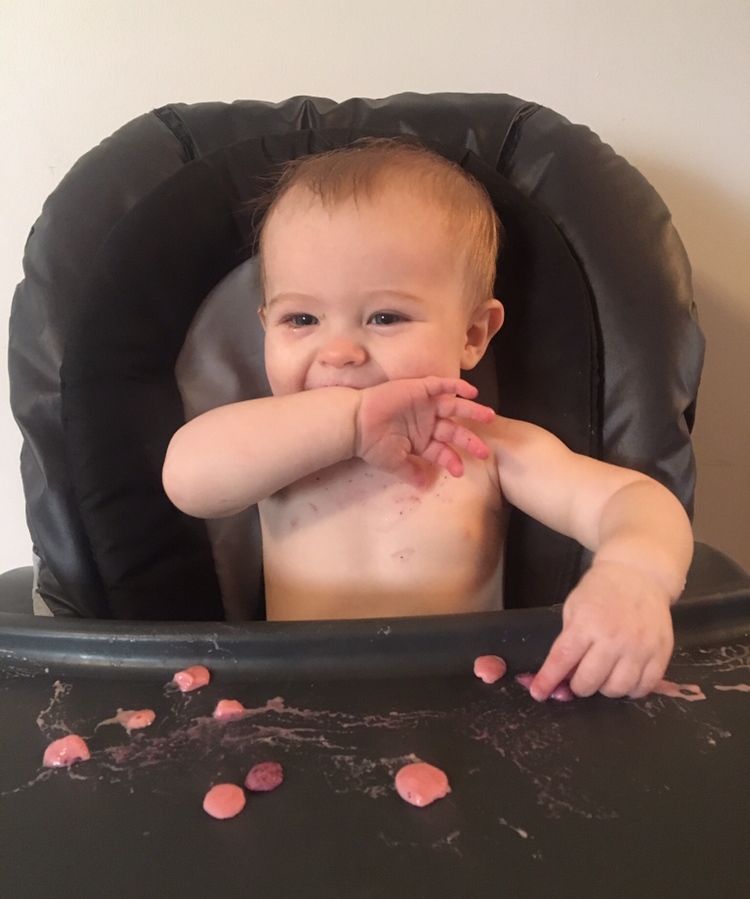 I more than likely missed some great first foods for babies when creating my lists, so don't be afraid to let me know in the comments!
I hope you found some great ideas for new food introductions and most importantly Happy Weaning!
You can find all of my must have motherhood/baby/toddler products here!
You May Also Enjoy: