New Mom Survival Baskets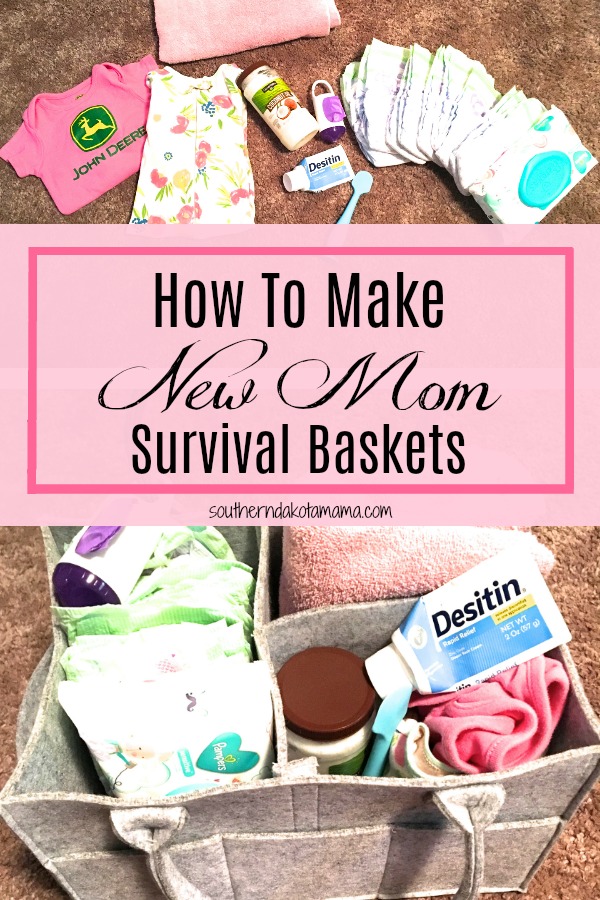 Yay! Congrats on your new little bundle of joy! Whether he/she has made their appearance or if they are still in the oven!
Bringing a newborn home is exciting but at times it can be stressful and a little tiring. Okay, probably more than a little. Anyways, I tried to make things, easier, less stressful, and less tiring by putting together new mom survival baskets before I had Oaklynn. I had four different baskets: breastfeeding, diapering, postpartum, and medicine.
FYI: These baskets make great baby shower gifts!
Diapering Basket
Newborns dirty a ton of diapers, and instead of keeping all the diapering essentials in the nursery where they may not even sleep yet, set up a diapering basket. I loved my diaper basket as it was so easy to move around. Need to change a diaper in the living room? Downstairs? In the bedroom? Bathroom? Just grab the diaper basket and move it wherever you need be. I used this diaper caddy in order to keep all the diapering essentials organized and easily moveable.
Essentials
Newborn/Size 1 Diapers- Diapers, something you will need a never ending supply of. I was a lover of Pampers Swaddlers when Oaklynn was a newborn and a lover of Luvs when Oaklynn reached the age of 6-8 months. With Luvs, I felt she did not wake up as wet and Luvs are cheaper as well. Amazon was also my best friend. Subscribe to getting diapers sent directly to your door monthly. No need to head out to the store every few days to buy more diapers.
Wipes- A stockpile of wipes is also a must. I am a lover of Pampers wipes, as they are for sensitive skin. Subscribe and save 5% now and 15% on auto-deliveries!
Diaper Rash Cream- Desitin, a must have for diaper rashes. This stuff works no matter what!
Onesie Change/Pajama Change- Babies go through a lot of diapers and they tend to go through a lot of clothing changes as well. Because, well, blowouts happen. When a blowout occurs, instead of running to the closet to grab a change of clothes, keep a onesie change in the diaper caddy.
Diaper Bag Dispenser- These little bags are infused with baking soda for safe, effective, and natural odor elimination. No more stinking up your trash and house. These are also a must for traveling, along with disposing of stinky diapers in public, friends house, etc.
Old Towels- Like I said before, blowouts happen, and most of the time it tends to be all the way up their back. So instead of getting poop all over the floor, changing pad, etc. just lay an old towel down. Trust me, no matter how hard you try, newborn poop will be everywhere. Also, you know those little flaps at the top of the onesie? Those are intended to be pulled to the side, in order to slip the onesie down, over the body, when a blowout occurs. No body wants poop in their hair.
Coconut Baby Oil- Coconut Baby Oil works wonders for so many purposes. For us, it helped clear up Oaklynn's cradle cap, along with soothing her dry irritated skin. Can also be used for diaper rash, soothing sore nipples, and stretch marks. Oh, and I can't forget about it helping with those first few diaper changes. Because boy is that meconium sticky and tarry.
Baby Bum Brush- This was one of those items that I received at my baby shower and immediately thought, "I am never going to use this." Turns out I was wrong, it is definitely a handy little tool. The suction on the bottom makes it easy for you to stick to a surface, and use both hands to readjust, once your little one gets to the squirmy stage. Also, no more diaper cream stuck to your fingers and under your finger nails! You wouldn't believe this is a 5 star item with over 4,000 reviews!
Breastfeeding Basket
Newborn babies poop a lot, and guess what, they eat a lot too. So, if you are breastfeeding, a breastfeeding basket is a must. You probably don't want to be glued to one spot, so you will want one that is easily moveable. Move it to the nursery, to the living room, to the downstairs living room, to the bed, etc.
Essentials
Breast Pads- An absolute must, as you most likely don't want wet circles on your shirt. I prefer the disposable ones, although there are reuseable ones as well.
Snacks- Baby likes to eat and mama most likely does too! Keep snacks such as bananas, nuts, dried fruit, lactation cookie bites, etc. in your breastfeeding basket.
Water Bottle- Thirst usually hits right when you sit down to feed your little one. So make it easy on yourself, and keep a water bottle in your breastfeeding basket. Hydration is also essential when breastfeeding! I love the water bottle linked, as it has a fruit or tea infuser, ounce markings, along with time markings (to make sure you are staying on track for getting in the recommended amount of water each day).
Burp Clothes- Love these burp clothes as they are cute, soft, and extra absorbent.
Things To Do- You will now be spending a great portion of your day breastfeeding your newborn, so keep things to keep you occupied in your breastfeeding basket. Such as a book, a magazine, crosswords, sudoku puzzles, the remote, and a phone charger.
Nipple Cream- For those first few weeks, your nipples will most likely be a little sore, so lanolin is a must to protect and soothe. Coconut oil, like the one linked in the diaper basket, works wonders on sore nipples as well.
My Breast Friend Nursing Pillow- I prefer the my breast friend nursing pillow over the boppy pillows as it provides you with much more support. No more straining your back, neck, and arms. It also prevents your baby from rolling out of position while nursing.
Haakaa- You will absolutely want this! My favorite breastfeeding purchase to this day! My favorite use for the Haakaa is to catch my letdown on my non nursing breast when nursing my baby. I cannot tell you how mad I am at myself for not getting the Haakaa from the get go. Think of all the milk I wasted by just letting it soak into my nursing pad. I got an extra 75 ounces of milk a week by just using the Haakaa to catch my letdown when nursing.
Nursing Cover- If you are concerned about exposing your breast to everyone, this is a must have. This nursing cover lets you breastfeed your little one discreetly. Perfect for when family and friends are over visiting.
Nipple Shields- Nipple shields can be used for several purposes, including flat or inverted nipples, overactive letdown, soreness, and trouble with latching. These provide you with a good latch and a barrier between you and baby in order to allow you to heal while still being able to breastfeed.
Breast Therapy Gel Packs- Cold therapy relieves pain and swelling from engorgement. Hot therapy relieves mastitis, plugged ducts, and encourages milk let-down.
Sunflower Lecithin- If you are someone who gets or wants to prevent clogged milk ducts or mastitus, this is the product for you! As a breastfeeding mom, I am lucky enough to have never had clogged milk ducts or mastitus. Although, a friend of mine had mastitus and she swore by this to get rid of/prevent it. Other moms say this is the one thing that kept them from giving up on breastfeeding.
Find ALL the Breastfeeding Must Haves here.
Postpartum Basket
Trust me, you want to prepare for the postpartum recovery just like you prepare for everything else. I only bought one postpartum item ahead of time, and once postpartum came I was kicking myself for it. There I was frantically ordering postpartum care essentials or running to the store all hours of the day! I definitely should have created this postpartum basket from the start.
Essentials
Extra Underwear- The underwear you choose for after delivery is essential. You will want to make sure they handle your bleeding along with protecting your tender tummy or vagina. I also recommend getting all black.
Pads- Postpartum pads help absorb the heaviest bleeding. These pads are great as they are super puffy and comforting, making sure to protect your tender lady bits or stitches.
Sitz Bath Soak- Cleanse and soothe your perineum from burning or discomfort due to hemorrhoids, episiotomy stitches, or tears from childbirth. No harsh chemicals or fragrances, just natural, organic and pure ingredients so you never need to worry about what's going on your delicate skin. Use in a sitz bath, over the toilet, in a shallow hip bath, or mix with water in a spray bottle for either portable cleansing, as a soothing spray for postpartum pads, or on-the-go pain relief.
Over The Toilet Perineum Soaking Bath- If the perineum is too sore to withstand the weight of your body, use an over the toilet perineum soaking sitz bath instead.
Dermoplast- This is an absolute MUST, let me tell you, a lifesaver! This will provide tremendous pain relief postpartum! I recommend packing it in your hospital bag as well.
Cooling Spray- Another lifesaver, and I would have to say one of my FAVORITE postpartum care products. This is going to be something you will want to take with you every time you go to the bathroom, because let me tell you it burns like no other. Biting down on the neck of your shirt type burning. Until you use this product, as it will provide you with the cooling sensation and instant relief you need. Honestly, I would get a couple of them. One for at home and one for your diaper bag, for when you are out and about.
Perineal Cooling Pad- Cold therapy, exactly what you will want postpartum! These will help reduce pain and swelling significantly. I absolutely love the size of these and they are soft and comfortable for your most tender areas.
Tucks Pads- When I was pregnant with Oaklynn several other moms recommended these to me and now I recommend them to other moms. They provide a cooling sensation and relief from pain/itching from hemorrhoids and tearing. Tucks to the rescue.
Hemorrhoid Treatment- Yes, you may get hemorrhoids from the pushing and in all honestly I would prepare like you are going to get them. Because I would much rather have this cream on hand and not use it than not have it and need it. Because let me tell you the pain and I can't forget about the itching, oh the itching, so freaking uncomfortable. I can't say enough good things about alleviate. It is ABSOLUTELY worth every last penny! This cream definitely works and works instantly.
Peri Bottle- Game changer mamas! The angled squirt head is perfect for reaching all the areas you need. This is so much more comfortable than using toilet paper and leaves you with that clean feeling!
Find ALL the Postpartum Care Essentials here. From boobs to butt and vaginal birth to c-section.
Medicine Basket
One of the worst things you experience as a mom is when your little one comes down with sickness. You of course want to do absolutely everything possible to get them back to their normal selves, so this is why I put together a list of all my favorite must haves for a baby medicine basket.
Essentials
Gripe Water- This is something that I used EVERY single day for the first couple months after Oaklynn was born. Oaklynn got the hiccups at least three times a day, so I would just give her a couple drops of Gripe Water, which would relieve them instantly. And when I say instantly, I mean instantly. My main use of Gripe Water was for hiccups, although several moms say they used it for acid reflux, gas, calming the stomach, etc.
NoseFrida- NoseFrida is so so so much more useful than the bulbs they give you at the hospital. You get so much more out of your baby's nose as it allows all the suction that you can get out of your lungs! When your little one is sick, the NoseFrida is an absolute godsend, as it helps them sleep so much better with no more clogged noses!
Q-Tips- If you have a little one, you need these q-tips! They are safety swabs, so no sticking the q-tip too deep. You will feel way more comfortable using these than regular q-tips as you know you will not be entering the ear canal. Perfectly designed for the safe cleaning of little ears.
Saline Nasal Spray- Miracle Spray. This product definitely does its job. Works well for decongestion and removing those dry crusty boogers. The best part is, several moms say their kids love this spray and want to do it themselves! Win!
Chest Rub- Zarbee's Naturals Chest Rub is the key to helping your baby sleep better at night if they have a stuffy nose. Several moms say their little ones LOVE this stuff and will go running to get Zarbee's Chest Rub themselves when they are not feeling well. Works for a calming relief and helps with decongestion, getting through those winter month colds, coughs, irritated skin and so much more! Moms say Zarbee's is so much better than any other brand they have tried and plus, it smells AMAZING!
Cough Syrup- I did a lot of reading and looking around before I came across this baby cough syrup. Several moms said that other brands made their little one projectile vomit instantly, so no thank you! Mommy's Bliss is definitely the way to go! It provided quick relief and cured overnight cough. A great elderberry natural product that helps boost immunity as well!
Motrin- This has the best reviews and several moms prefer this Motrin over Tylenol and other fever reducers. They say it works wonders for teething, fevers, ear infection, pain relief, after shots, etc. They also say it tastes better and goes to work faster than Tylenol.
Thermometer- This is my all time favorite thermometer! I have found it to be the most accurate out of all the thermometers I have tried. It is fast, easy to use, and has a large light up screen so no need to turn on the lights to take a temperature in the dark. The best feature is that you can take off the head and it turns into an ear thermometer! How awesome is that? It also has an audible fever alarm feature. LOVE this thermometer as it is accurate and has tons of great features!
Boogie Wipes- These are AMAZING. My sister had these, and the first time I used one, I used it on myself. I instantly ordered them, knowing they would be great for my little one. They work wonders on breaking up hard crusty boogers. I would have to say they are much better than Kleenux as they are made with moisturizing Aloe, Chamomile, and Vitamin E, and cause no redness or soreness.
Find ALL of the essentials for Baby's Medicine Cabinet here.
Thanks for stopping by! I hope these survival baskets help make mom life easier and less stressful, knowing you have everything together! If you think I forgot an essential for any of the baskets, I would love to hear about it in the comments! Thanks again and don't forget to share with all your fellow mamas! 🙂
You can find all of my favorite motherhood/baby/toddler products here!
You May Also Enjoy: